Friends, the RPT series on July 9-18 in Armenia will become even more hype than we expected!
⠀
Already now, a little more than a week before the start of the series, the hotels "Multi Rest House" and "Russia" are almost completely sold out.
⠀
This means that the tournament and cash tables will be filled with numerous participants from different countries. Of course, we foresaw this moment and in advance for future guests we secured a couple more great options.
⠀
If you are going to the series on July 9-18, but suddenly you still haven't taken care of accommodation - it's time to do it now!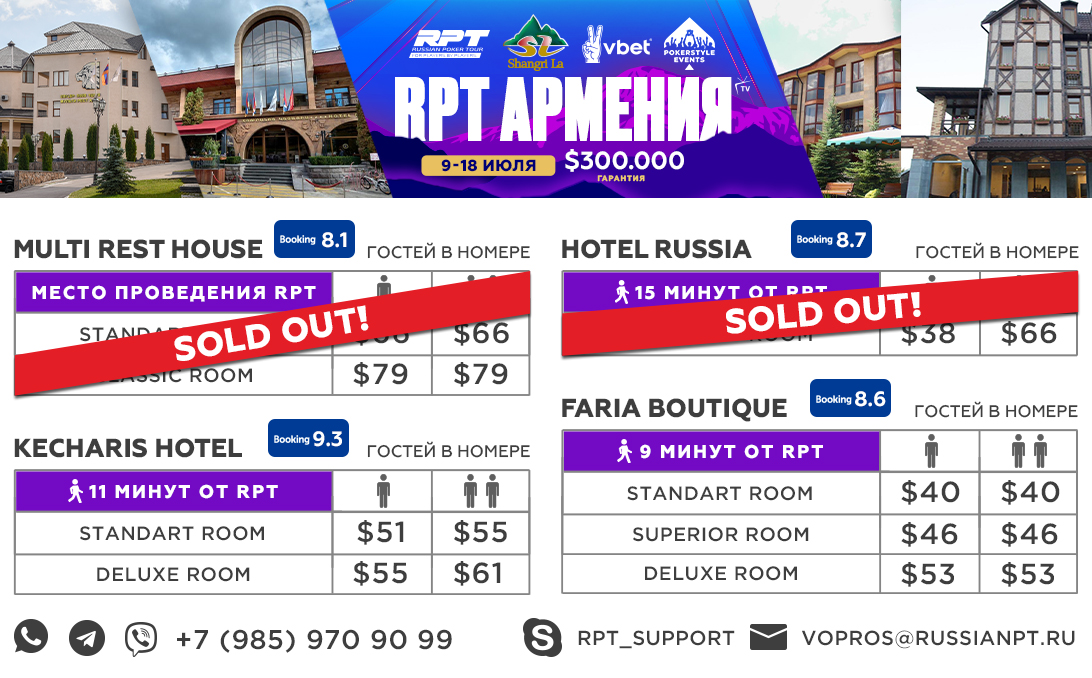 ⠀
"Kecharis Hotel" is a comfortable and cozy 4* hotel, which also has everything for a great vacation and a pleasant pastime. RPT players here start at $51/night.
⠀
"Faria Boutique Hotel" - a cozy boutique hotel - ideal for players traveling with a group. The options of some rooms allow up to four guests to be accommodated in one room at once. Accommodation here will cost as little as $40/night.
⠀
Both hotels are within walking distance of the Shangri-La Casino (the venue of the series). The series starts on July 8, and there may not be any free numbers left. Book your rooms now!
⠀
It is very easy to do this, just contact our manager by phone and tell us the dates of your arrival - Viber, WhatsApp or Telegram +7 (985) 970-90-99.
⠀
See you in Armenia!