Big return of RUSSIAN POKER TOUR in Minsk
September 15-26, Belarus, Minsk. The guarantee is $700,000.
5* hotel "Beijing", casino "Opera". TV broadcast, without 13% tax.
Special RPT stage, big prize money, best entertainment.
Friends, you understood everything correctly - you can already book flights and write an application for a vacation!

How do you like such a guaranteed prize pool? Already in mid-September, a truly special stage awaits us, in our plans - a big return of the Russian Poker Tour to the capital of Belarus! This will be a special stage of the RPT, the reason for which we will keep a secret for now. And to make the game even more interesting, the guaranteed prize pool of the series this time will be $700,000 - we announce such a big guarantee for the first time in 7 years!
We want to turn these twelve days of September into a real poker holiday with lots of entertainment and prize money up for grabs. Your attention is the announcement of the big TWELVE-DAY RUSSIAN POKER TOUR stage: excellent schedule, increased guarantees for most tournaments, a $700,000 record guarantee for Minsk, improved structures, better and free entertainment from the organizers, as well as a lot of opportunities to qualify through online satellites. What do you think, how do you like the beginning of autumn?
1️⃣✅ BIG PRIZES
The two previous stages of the RPT in Minsk brought a total of $1,500,000 in prize money. Minsk loves and always waits for big poker, Minsk is always ready to play a lot, and the RPT series on September 15-26 with a total guarantee of $700,000 fits into these criteria perfectly. The series was announced back in June, so many players have already marked these dates for a potential vacation, and after the dedication of the series at the July stage in Armenia, the number of calls has increased many times over. This is a special stage, within which there will be many different nice buns and gifts.

Right now, you can feel the atmosphere of the RPT by going to the Russian Poker Tour Instagram account in the stories section. There are a lot of interesting materials, many of which remain behind the scenes.

2️⃣✅ EXCELLENT TOURNAMENTS
At the upcoming RPT Minsk, we are guaranteed to give away at least $700,000. And even despite the record guarantee for Minsk, the prize money will still be much higher. We try to combine the right balance of one-day and multi-day events, poker tournaments should be accessible to both a wide range of players and have impressive prize pools. Keeping this balance is our goal. It is worth adding that you receive your prize money in full without the 13% tax deduction!

Smooth structures, no imbalance in payouts. The Main Event will remain the same democratic - the buy-in is $550, the guarantee has been increased to $160,000, and about $50,000 will go to the winner live and under the gun of a TV broadcast.

3️⃣✅ COMPOSITIONS and ATMOSPHERE
If a big stage takes place in Minsk, then players from different parts of the world definitely come to Minsk. For all the time of our events, we have walked all over Europe. We were in Georgia, and in Armenia, and in Kazakhstan, in Ukraine, Montenegro, Russia and even Egypt... In addition, our joint Russian-Israeli stages were super successful. All this makes the compositions on the RPT unique and unlike others. During the year of holding the RPT stages in Tsakhkadzor and Yerevan, many Armenians fell in love with the RPT series tournaments so much that they come and conquer the tournaments in Minsk with pleasure.

The attention and excitement for the future series will again be huge, we have made a cool and busy tournament schedule. But we are not going to stop at poker alone, and within the framework of the series we will again hold several coolest parties at once in the best nightclubs and karaoke bars of the capital. It will not do without your favorite championships in karting and FIFA. And you know how we love and know how to have fun????.

4️⃣✅ EXPENSES
Minsk still remains one of the most accessible cities in terms of visiting. Prices for flights to Minsk from many CIS cities are now at the lowest level for the entire time of observation, so a round-trip ticket from Moscow costs about $100, from St. Petersburg - around $110, the Lastochka fast train costs even cheaper.

With regards to living expenses in Minsk, the prices will also pleasantly surprise you. A chic 5⭐️ hotel at the venue - $80 for two, 4⭐️ hotel within walking distance - $43. A huge number of apartments nearby from $20 is an excellent choice for large companies, a taxi in Minsk is quite inexpensive. Food prices are also quite low, and prices in cafes and restaurants are two to three times cheaper than in Moscow.

5️⃣✅ ENTERTAINMENT
❤️ What Minsk is - it's a cozy, very clean and incredibly warm city in every sense. In spring and summer, the temperature here is super comfortable, in autumn and winter, charming and hospitable residents of the capital of Belarus will warm you with a kind heart and care. A trip to the poker series in Minsk is a great rest and refreshment for most of our guests. The location is perfect, here you have parks and museums, karaoke, nightclubs, a sea of beautiful girls, new acquaintances and adventures, all this is close to large-scale tournaments, there is where to go and where to get distracted.

Our guests come not only for great poker tournaments, but also for a good rest and breakaway, and this is guaranteed. Add to that the branded RPT entertainment, which this time will be even more. What to expect: several parties for the players at once (party in a nightclub and a separate karaoke battle, a mafia tournament, an adrenaline karting tournament, a fun FIFA tournament on the Playstation and much more). RPT Minsk is an ideal place for poker holidays and entertainment.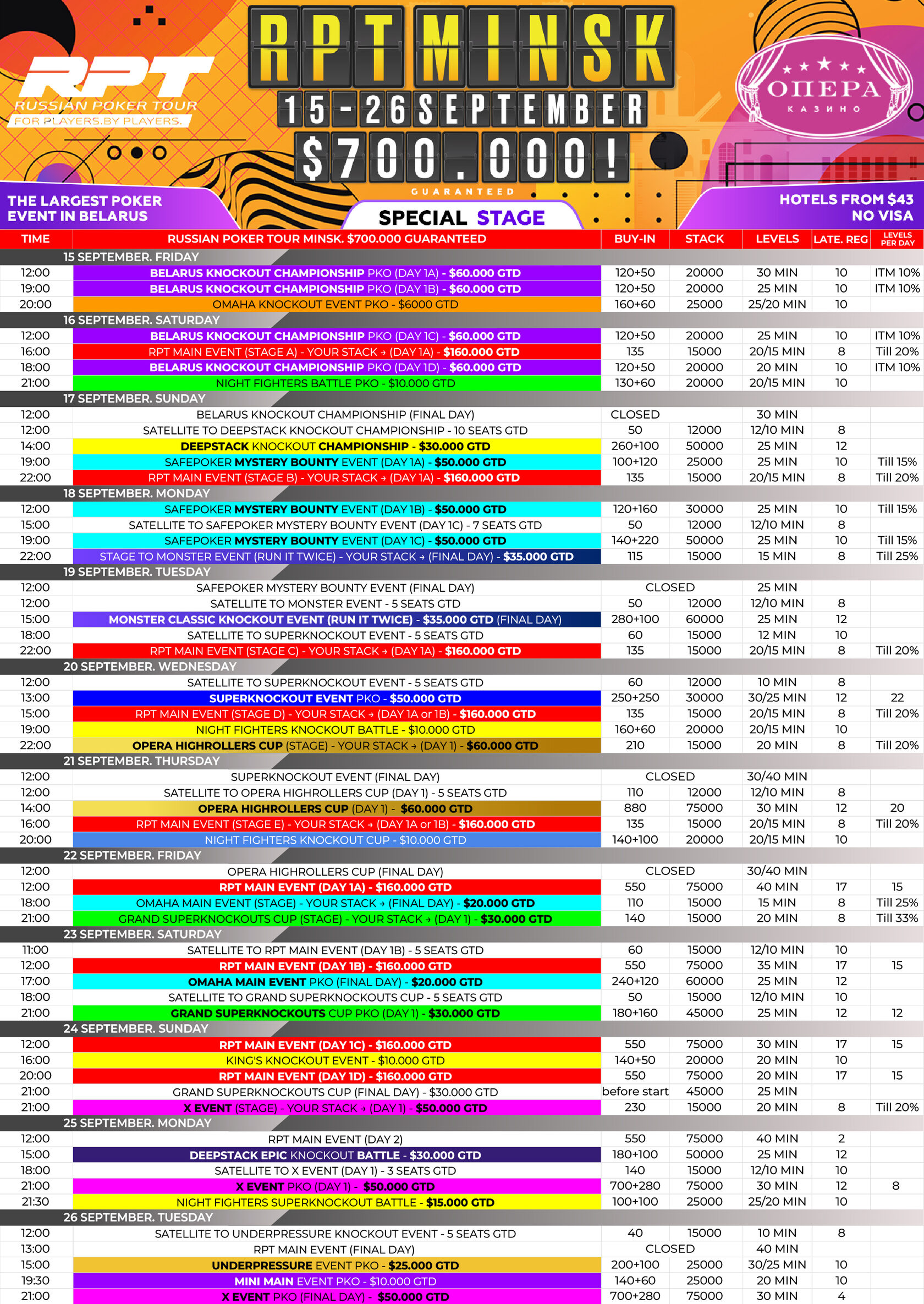 1️⃣ RPT MAIN EVENT $135/$550. $160,000 guaranteed.
75.000 stack, 20, 35, 40 and 45 minute levels.

Immediately $160,000 guaranteed prize money in Maine and the same format accessible to many. The entrance fee for the Main Event is $550, for those who want to get into it, the stages will be 4 times cheaper.

In Stage A, Stage B, Stage C, Stage D and Stage E for $135, participants play up to 20% of the total number of stage entries and go directly to the main Day 1A while keeping their stacks. Stacks in stages are not merged! Thanks to this format, more amateurs can always take part in the Main Event of the series. Online satellites will take place directly on Day 1A with an entry fee of $550.

The winner of the Main Event in June was Ilya Rogov, who earned $45,000 in prize money.

2️⃣ OPERA HIGHROLLERS СUP $210/$880. $60,000 guaranteed.
75.000 stack, 30 and 40 minute levels.

High rollers are an integral part of the tournament bracket, which this time became the second most expensive event, once again losing the palm to the X Event tournament. The entry fee for the High Roller tournament is $880.

As in the case of Maine, the High Roller will be accessible through a stage, it will be only one with a buy-in of $210 for those. Players in the stage receive 15,000 chips and play up to 20% of the total number of entries, after which they go to the main Day 1 with the collected stacks. High rollers will take place at the junction with the main, you can take part in both tournaments without fear of intersections.

In High Rollers, there is always a five-figure amount for winning, for example, Gwang Ir De in a similar tournament in June earned $20,000 in prize money.

3️⃣ X EVENT PKO $230/$700+280. $50,000 guaranteed.
75.000 stack, 30 minute levels.

That's right, this is the most expensive tournament of the series. The entry fee for the X Event tournament is $980. Similarly, it will be possible to go through the stage with a democratic $230 buy-in, while maintaining your stack. All stage participants receive 15,000 chips at the start and play up to 20% of the total number of entries, after which they move on to the main Day 1 of the X Event tournament with the collected stacks. On the final day, the first four levels will be available for late registration.

The main feature of the tournament is that this time it will be held in the format of progressive knockouts. Meir Batyrkhanov last time took the top 1 of a similar tournament in Minsk, winning more than $11,000 in prize money.

4️⃣ SAFEPOKER MYSTERY BOUNTY EVENT $220, $280 or $360. $50,000 guaranteed.
20.000/30.000/50.000 stack, 25 and 30 minute levels.

For the umpteenth time, the RPT will host a tournament in the exciting Mystery Bounty format. You can take part in any of the three entrance days, all the action will begin during the final day. On Day 1A for $100+120 players get 20,000 chips and advance to pooled Day 2 with their stack, on Day 1B for $120+160 the starting stack will be 30,000, on the pooled day itself with a buy-in of $140+220 players get a stack of 50,000 chips. Attention! Log-in stacks are cumulative!

Evgeniy Kharlov became the champion of a similar tournament last time, he earned $13,700 including full bounties.

5️⃣ SUPERKNOCKOUT PKO EVENT $250+250. $50,000 guaranteed.
30.000 stack, 25, 30 and 40 minute levels.

One of the most popular side events. The most "juicy" knockouts lurked in this tournament. Super knockout in progressive format, approaching the logical outcome of the tournament, the player turns into a real target with a huge bounty for knocking him out, which only adds action to the game. The final table will play out the next day.

The prize money of this tournament is always over $10,000 for the first place, and last time in Minsk the tournament was conquered by Gennady Kalikin.

6️⃣ BELARUS KNONCKOUT CHAMPIONSHIP $120+$50. $60,000 guaranteed.
20.000/75.000 stack, 20, 25 and 30 minute levels.

The most massive tournament of the series is a three-day event in the format of progressive knockouts, which will open our September twelve-day marathon. Excellent smooth structure and a modest buy-in of only $170 - a great warm-up tournament at the start of the series. Please note that there are four starting days in total in this event, stacks are not summed up! A ticket to this event can be easily won in online satellites.

A similar tournament in Minsk was submitted to Fedor Sochnev. Usually the prize money of this tournament is $10-15,000.

7️⃣ MONSTER CLASSIK KO EVENT (RUN IT TWICE) $115/$280+100. $35,000 guaranteed.
25.000/75.000 stack, 25 minute levels.

Your eyesight really does not fail you, this is an updated Monster Event, which this time will take place with classic $100 bounties for each head. The buy-in for the tournament is $380, a decent starting stack of 75,000 and a great smooth structure. In fact, it is a deep stack with a super comfortable structure for smooth and measured play. A feature this time will be the Run it Twice format, which allows the player to see two boards at once during the entire tournament. For those who want to get into the tournament cheaper, the stage with a $115 buy-in will take place the day before, after which 25% of the total number of entries will go with their stacks to the Monster.

Timur Kurbanov won last time
Online qualifiers are a great opportunity to come to the offline series already with a ticket to the tournament, and not even one. Grompoker will host even more online satellites for the September round in Minsk.

Similar to Armenia qualifiers, players from Belarus, Russia and Kazakhstan can deposit and play satellites through Grompoker. Deposits from Russia should be made through the Grompoker support in telegram. The satellite schedule will be available soon. At the last stage of the RPT in Minsk, Grompoker raffled off about 70 tickets, this time our online partners promise even more tickets and packages. Don't miss this opportunity offered by our online partner.

The full schedule of online satellites will be published a little later.

From Russia
Recently, the number of flights from Russian cities to Minsk has increased, many direct flights have opened, and the cost of air tickets has decreased significantly. Tickets Moscow-Minsk-Moscow cost about $75, from St. Petersburg - $120. The fast train "Lastochka" will cost about $25. The earlier you book your flights, the cheaper the trip will be.

From Armenia, Georgia, Kazakhstan and Azerbaijan
There are also direct flights to Minsk at affordable prices from these countries. As for Covid restrictions, Belarusians will not require a PCR test or a vaccination certificate from you.

From Europe
From April 15, 2022, for citizens of Latvia and Lithuania, and from July 1, 2022, also for citizens of Poland, a visa-free procedure for entering Belarus has been introduced. Citizens of these countries have the right to visa-free entry to the territory of the Republic of Belarus an unlimited number of times. The number of days of stay in Belarus should not exceed 90 days in a calendar year.