GRAND FINAL RUSSIAN POKER TOUR, TV STAGE!
November 17-27, Belarus, Minsk
Guarantee $600,000 or 60,000,000 rubles, 5* Beijing Hotel, Opera Casino
For the first time with TV broadcast of six tournaments and two cash games!
Friends, we are glad to share great news with you!

Here is the announcement of the final series of the year; we have made a number of improvements and added many new products that you will definitely like.
Before talking about the Grand Final, a few words about the last stage of the RPT in Minsk in September 2023:

✅ Over $800,000 in prizes paid out!
✅ The series was attended by more than 600 unique participants - poker fans.
✅ All tournaments, with the exception of some stages and satellites, were held in 9 max format.
✅ We gave away 20! cups and medals in tournaments.
✅ Had a wonderful time at the RPT entertainment events.
✅ Showed the final day of the main tournament with open cards
✅ 67 tickets and packages were raffled off in online satellites
✅ We presented a unique diamond ring to the best player in the series.

Now let's see what awaits us from November 17 to 27 in Minsk:
1️⃣✅ UPDATED TOURNAMENT SCHEDULE

Added tournaments in the classic format (not knockout);
The Russian Poker Open Tv Event has been returned to the schedule;
Some progressive knockout tournaments have become classic knockouts, for example Superknockout Event (250+250);
The popular Mystery Bounty tournament has changed its structure, now all starting days have the same buy-ins of $260;
We have reduced the buy-in for the X Event and will start it earlier than usual.

2️⃣✅ 7 TIMES MORE TELEVISION BROADCASTS (tournaments and cash)

Previously, we only showed televised finals from the main event, sometimes from the X Event. We have decided to significantly increase the number of television broadcasts from RPT. In November, 6 tournaments will be held under cameras and spotlights. You are now 7 times more likely to get to the TV table on the RPT.

In addition to broadcasts of tournament battles, we will conduct two broadcasts of cash games, Omaha and Texas at medium limits (5/5 - 5/10). If you want to get to the TV table for a cash battle, contact our administrator, we are looking for bright, emotional players who will be interesting to watch for thousands of poker fans.

3️⃣✅ EXCELLENT COMPOSITION AND BEST ATMOSPHERE

The tournament series from Pokerstyle Events always has a warm and friendly atmosphere; most participants come in pursuit of new experiences and emotions. We strike the perfect balance by offering affordable tournaments with big prizes. When you can get huge prizes for small entrance fees, at the same time, the entrance fees are not affordable and are affordable for most poker fans. All major tournaments, just like last time, will be held in the 9-max format.

Right now you can feel the RPT atmosphere by going to the Russian Poker Tour Instagram account in the stories section. There is a lot of interesting material there, many of which remain behind the scenes.

4️⃣✅ SMALL COSTS

How much does it cost to travel to the poker series? A question that many players, both new and more experienced, ask themselves. It often happens that living expenses and everyday expenses take up an impressive part of the trip budget. Or vice versa, the trip is relatively inexpensive, but the tournaments are so "inexpensive" that the prize money is not particularly attractive. Minsk still remains one of the most accessible cities in terms of visiting. Prices for flights to Minsk from many CIS cities are now at the lowest level for the entire period of observation, so a round-trip ticket from Moscow costs about $100, from St. Petersburg - around $110, and the fast train "Lastochka" costs even less.

Regarding living expenses in Minsk, the prices will also pleasantly surprise you. Luxurious 5⭐️ hotel at the venue - $80 for two, 4⭐️ hotel within walking distance - $43. A huge number of apartments nearby from $20 are an excellent choice for large companies; taxis in Minsk are quite inexpensive. Food prices are also quite low, and in cafes and restaurants prices are two to three times cheaper than in Moscow.

5️⃣✅ NO 13% TAX ON PRIZES AND ENTERTAINMENT

Should I pay 13% on prize money? We don't think so. When organizing tournaments within the casino, we pay tax for each individual poker table so as not to withhold a 13% tax on your prize money. Yes, paying tax on such a number of tables is not very cheap for the organizers, but we know that it is better for our guests.

A trip to the poker series is a great relaxation and reboot for most of our guests. Of course, what happens at the poker tables is the most important part of any trip to the poker series, but what can you do besides the casino and poker? Minsk has a fairly wide selection of entertainment for every taste. Traditionally, we organize karting, karaoke and mafia tournaments with valuable prizes for our guests, as well as a branded RPT party in the best night spot in Minsk.
1️⃣ RPT MAIN EVENT $135/$550. Guarantee $165,000. TV-Broadcast
Stack 15,000/75,000, levels of 15/20/25/30/40 and 45 minutes.

The same accessible format of the main, it will remain with the same democratic buy-in.

In Stage A and Stage B, C and D for $135, participants receive 15,000 chips at the start and play up to 20% of the remaining, advancing to Day 1A or 1B with their stacks collected, or enter directly for $550 into the main Day 1A, receiving a starting stack in 75,000 chips. In this event the winner receives about $45-$55,000. The best entry day is Day 1A, which includes the majority of online satellite winners and those who have progressed through the stages.

Don't miss the opportunity to win tickets and packages for this event in online satellites.
In June of this year, the main tournament, along with $45K in prize money, went to Ilya Rogov.

2️⃣ RUSSIAN POKER OPEN TV EVENT $290. Guarantee $35,000. *New format TV-Broadcast
Stack 25,000, levels 25/30 and 40 minutes.

The return of the cult Russian Poker Open tournament to the schedule, also in an updated format. A classic two-day democratic tournament, with television broadcast and big prize money. The buy-in is $290, recommended for all fans and those tired of knockout tournaments).

3️⃣ BELARUS KNOCKOUT CHAMPIONSHIP $120+$50. Guarantee $60,000. TV-Broadcast

A two-day opening tournament in the progressive knockout format with an excellent structure and a modest buy-in of only $170 - an excellent warm-up event at the start of the series. Please note that there are a total of 5 input flights in this event, stacks do not add up! The largest event on the RPT schedule, the final part will take place on the TV table for the first time.

The winner of this event usually receives around $15,000 in prize money, and many tickets can be won through online satellites.
At the last episode, Maxim Rogov took with him the cup of this event.

4️⃣ OPERA HIGHROLLERS CUP $210/$880. $50,000 guarantee. *New structure TV-Broadcast
Stack 75,000, levels 30 and 40 minutes.

High rollers are an integral part of the tournament grid; the most expensive and prestigious tournament will be broadcast on TV for the first time. The entry fee for the High Roller tournament is $880.

As in the case of Maine, it will be possible to get into the High Rollers through a stage; there will be only one with a buy-in of $210. Players on the stage receive 15,000 chips and play up to 20% of the total number of entries, after which, with the collected stacks, they move on to the main Day 1. High rollers take place during the day, according to your recommendations, we have increased the length of the levels and reduced the number of levels played in the main day.

In High Rollers there is always a five-figure sum for a victory, for example, Gwan Ir De in a similar tournament in June earned $20,000 in prize money.
Considering the TV broadcast, we expect more participants in this event and more prize money in November.

5️⃣ X EVENT CLASSIC KNOCKOUT $190/$500+300. Guarantee $35,000. *New format TV-Broadcast
Stack 50,000, levels last 30 minutes.

The entry fee for the X Event tournament has become lower - $800. It will be possible to go through the stage with a reasonable buy-in of $190, while maintaining your stack. All stage participants receive 10,000 chips at the start and play up to 20% of the total number of entries, after which they proceed to the main Day 1 of the X Event tournament with the collected stacks. On the final day, the first two levels will be available for late registration. Now the X Event starts not at 22:00 but at 19:00!

The main feature of the tournament is that this time it will be held in the format of classic knockouts. For each eliminated participant you immediately receive $300. The final table of the tournament will be broadcast on TV for the first time.

6️⃣ SUPERKNOCKOUT EVENT $250+250. Guarantee $40,000. *New format
Stack 30,000, levels 30 and 25 minutes.

One of the most popular side events is the superknockout, now in the format of a classic knockout tournament. For each eliminated player you immediately receive $250.

7️⃣ UNDERPRESSURE EVENT $200+100. $20,000 guarantee. TV-Broadcast
Stack 25,000, levels 30 and 25 minutes.

The most unusual and striking event in the RPT schedule will be broadcast on TV for the first time. The final table of this event will take place under "a lot of pressure and cameras." Thousands of spectators will watch the unusual poker. The tournament, as usual, will take place without interruptions.

In addition to these tournaments, you can find many more great events on the schedule for the upcoming Grand Finals. The schedule this time turned out to be very interesting indeed.

Online qualifiers are a great opportunity to come to the offline series already with a ticket to the tournament, and not even one. Grompoker will host even more online satellites for the September round in Minsk.

Similar to Armenia qualifiers, players from Belarus, Russia and Kazakhstan can deposit and play satellites through Grompoker. Deposits from Russia should be made through the Grompoker support in telegram. The satellite schedule will be available soon. At the last stage of the RPT in Minsk, Grompoker raffled off about 70 tickets, this time our online partners promise even more tickets and packages. Don't miss this opportunity offered by our online partner.

The full schedule of online satellites will be published a little later.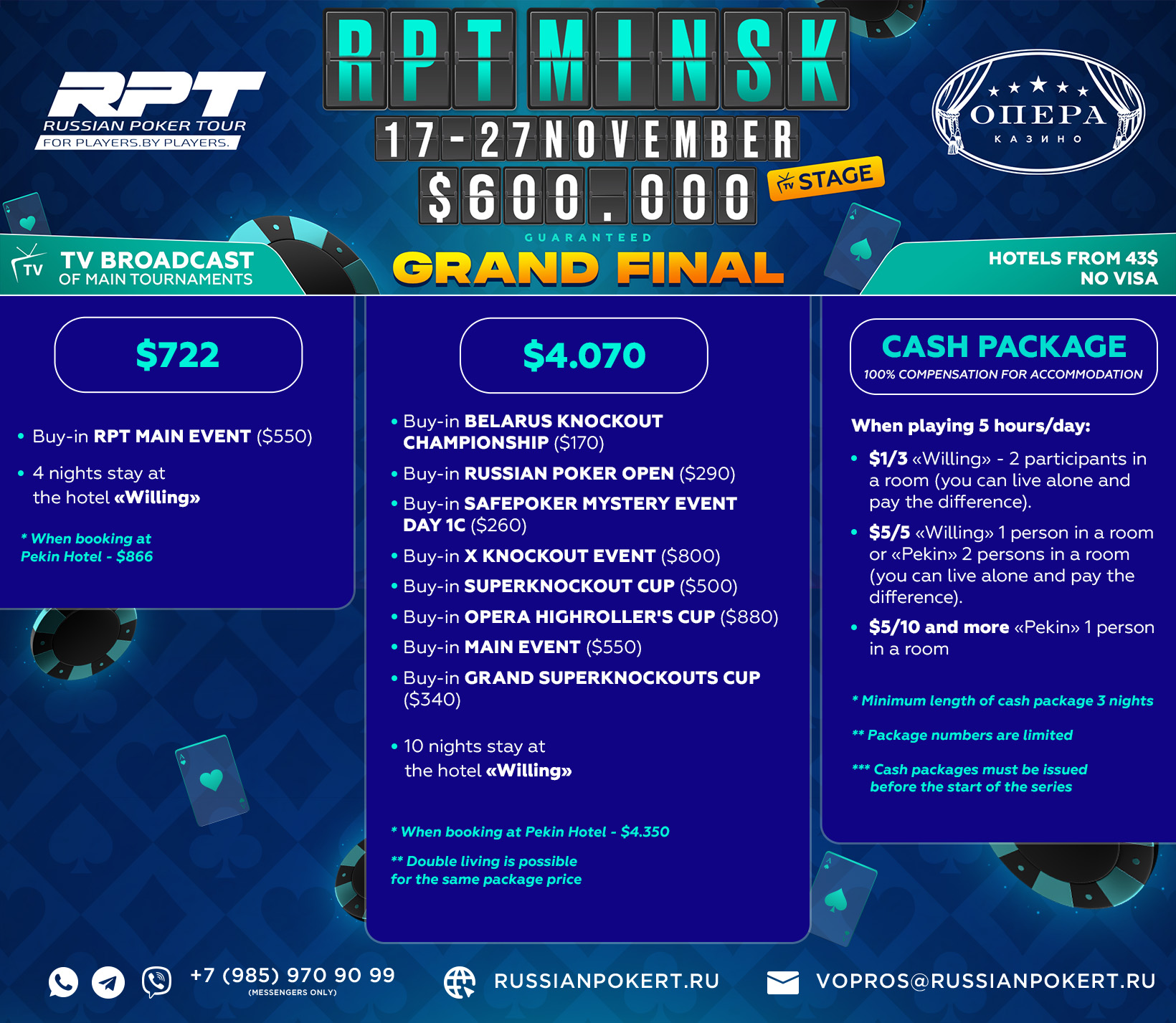 From Russia
Recently, the number of flights from Russian cities to Minsk has increased, many direct flights have opened, and the cost of air tickets has decreased significantly. Tickets Moscow-Minsk-Moscow cost about $75, from St. Petersburg - $120. The fast train "Lastochka" will cost about $25. The earlier you book your flights, the cheaper the trip will be.

From Armenia, Georgia, Kazakhstan and Azerbaijan
There are also direct flights to Minsk at affordable prices from these countries. As for Covid restrictions, Belarusians will not require a PCR test or a vaccination certificate from you.

From Europe
From April 15, 2022, for citizens of Latvia and Lithuania, and from July 1, 2022, also for citizens of Poland, a visa-free procedure for entering Belarus has been introduced. Citizens of these countries have the right to visa-free entry to the territory of the Republic of Belarus an unlimited number of times. The number of days of stay in Belarus should not exceed 90 days in a calendar year.
The top player in this incredible series will receive something special - a signature RPT diamond ring! This diamond trophy will symbolize your unrivaled performance and participation in the most spectacular poker event of the year.

We have changed the awarding of points for tournaments, now it is "more fair"
The amount of points awarded depends on the total number of participants in the tournament and its cost, therefore, at the bottom of the table are the coefficients that will be applied to certain events.